Welcome aboard learners and #build-ers!
This is is the beginning of Lesson 1 of Cryptobots vs Aliens - an interactive code school that teaches you how to write smart contracts in SmartPy!
Prerequisites for the course
The course only expects you to be familiar with the following:
You are generally familiar with software development, writing code, and running your code.
You have working knowledge of Python and its basic concepts.
What will you build or #buidl?
In the previous chapter, you got a magical gem that gives alien-killing cosmic superpowers to any cryptobot!
Your mission is to build and assemble your cryptobot from scratch and then use the gem to power it in order to stop the incoming alien invasion!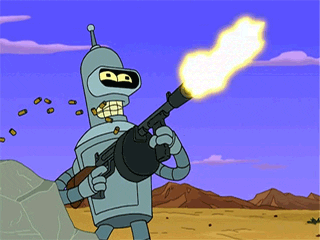 To build the alien-killer cryptobot, you are going to learn to write a basic Cryptobot smart contract that will contain all defense and offense functionalities to blast aliens off in style!
Don't worry if you are not familiar with the terminology of "smart contracts" as you will be learning about them in Chapter 2.
By the end of lesson 1, your Cryptobot will:
have the ability to move around to hunt for aliens!
have the ability to shoot plasma bullets to kill aliens!
have the ability to record alien kills for post kill analysis!
In later lessons, we'll learn to add more functionality to your cryptobot like ability to use special moves that can blast multiple aliens in single fire, the ability to trade your cryptobot with other #builder-s on the planet etc.
What to do if I get lost and need help?
No worries!
If you get lost, we recommend using the curriculum index present at the bottom left corner of your screen to reorient yourself.
If you need help, you can either:
Contact us on our support Telegram channel.